Meditation camp for stress relief for 22q.11 parents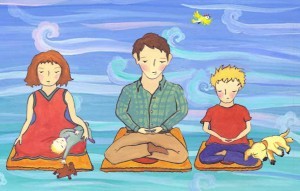 Camps are good for children, but parents also need camp. Parents of children with 22q.11 Deletion need…meditation camp to help deal with the stresses in raising their child. Mike, my son is grown now, but I remember the relentless stress. Chronic stress is dangerous and can result in a multitude of health problems. There were long hospital days, unexplained fevers, difficulty breathing, failure to thrive, heart problems, seizures, developmental problems, behavioral problems, educational struggles, and psychiatric problems. There were financial difficulties and many arguments with my spouse. There were long days and sleepless nights. My prayer used to be, "O for the wings of a dove that I might fly away and find rest." (Ps 55:6) I engaged in a regular prayer life which helped me get through the days, but lately I have learned the benefits of meditation for dealing with stress, both personally and through reading scientific literature.
Scientific research shows the beneficial effects that meditation can have on reversing the stress response and leading to physical healing. The medical research doesn't show a benefit to adhering to any particular set of religious beliefs, but it does show an across the board benefit to meditation for reducing stress and increasing health. A person can learn to successfully meditate and continue to be a practicing agnostic or atheist. For parents of children with 22q.11 Deletion, who walk a difficult road with many possible crises and so many sources of stress, the development of a daily meditation practice may be the most important support to help them make it through some long and difficult days. It can provide the true perspective that no storm lasts forever. A meditation practice can provide parents the still center to hold them steady in the midst of the storm.
I envision several meditation camps for parents in different locations all over the county. Parents could enjoy a week or weekend respite once a year at camp where they are able to rest and recharge while learning various meditation and mindfulness techniques. It is true that meditation can be learned anywhere or any time, even from a book. The advantage of a camp is that it would offer opportunities for parents to experiment with different types of meditation to see which one suits them best. Meditation is often difficult to learn in the beginning and very difficult to practice for people with little children, lots of stress, and little free time.
There would need to be nurses and other skilled caregivers to care for the children while parents have a chance to rest, meditate, and play. I am serious about this. I am hoping that someone with money and resources will help get such a plan started. If there is enough interest, I'd be willing to help in any way possible. I envision the first campers continuing to return to camp to teach and share what they have learned in their own meditation practices with other parents.