Hanging up my stethoscope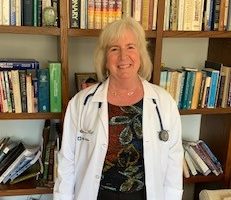 Hanging up my stethoscope feels like losing a limb. I've been a nurse, a nurse practitioner, and a nursing instructor for all of my adult life.
Over the years I have listened to thousands of patient's stories, listened to their hearts, their blood vessels, their bowels, and their lungs. I have touched patients, held their hands, hugged them, made them laugh, and held them when they cried. What a privilege! I can't say that any day working as a nurse was useless or boring. Over the years nursing became part of my identity, a way of looking and being in the world.
Since March 18 I have been seeing my patients virtually because of Covid 19. Sometimes the visit took place over video, a little like the Jetsons, but most visits have been phone visits. Virtual patient visits are an odd, surreal way to fade away. So many things are missed over the internet. A patient's glance or affect, how they are dressed, how they walk, how they smell, what their skin feels like and how they are breathing.
I haven't picked up my stethoscope once during these past six weeks. I'm not totally complaining, there are some benefits to virtual visits. Family members hang in the background asking questions and giving helpful information. One of my visits was with a patient on a tractor in his garage. I got the chance to meet his daughter and to hear his children playing in the background.
I am so grateful for having been a nurse. It was more than a career, it was a calling. I always felt closer to God when caring for a patient than I ever did in a church service.
I have also loved the science of it all, and the tremendous mystery of the human body. The more I learned, the more I knew I didn't know and would never know. To this day we have lots of knowledge, but the gap between what we know and what we still need to learn about the human body is infinite. This becomes so clear with Covid-19. We have dealt with viruses for millennia, but never this little thug. So many new questions needing to be answered.
Nursing is not only a profession that is science based, but it is relationship based. I believe that all healing occurs in the context of a relationship. It is not just the patient-nurse relationship that is rewarding, but nursing shares common bonds with all the other health care players. There is a comradery working with other members of the health care community in caring for patients.
I also loved teaching NP students. They brought with them a wealth of nursing experience and a hunger to learn. They were mostly fun, kept me on my toes, and made me laugh. The best part of having been a teacher is running into former students in professional meetings and health care settings and seeing how they have grown as professionals, full of confidence, knowledge, questions, and skills. So many of my former students stepped in to precept and mentor my newer students.
It's been a great ride. So today I hang up my stethoscope. Or maybe not.